Pharmaceutical water: the inside story of installation maintenance
Water is one of the most used raw or starting materials in the pharmaceutical industry. It is mainly used as a pharmaceutical input in the production of medicinal products or active pharmaceutical ingredients. It is also used for cleaning equipment, particularly in final rinsing operations for critical elements in contact with the finished product.
It is therefore crucial that the installations that supply this water are reliable, to ensure that its quality meets the standards described in the various pharmacopoeias and is constant over time.
These installations are generally composed of three sub-systems:
the production system this primarily consists of pre-treatment and a production system using membrane or thermal techniques;
the storage system: in a storage tank that provides a water reserve and guarantees the availability of water at any time, as required;
the distribution loop: this carries the water to the points of use distributed across the site: production workshop, washrooms, control laboratory, etc. The loop must be equipped with a water quality maintenance system, particularly with respect to microbiological quality. The purpose of this is to prevent any risk of microbial contamination.
Given the regulatory and economic stakes, manufacturers need systems that are more reliable than ever before. Hence maintenance has become an increasingly strategic activity. The objective is to guarantee:
the permanent availability of water,

in terms of both quality and flow rate;

the profitability of investments, by increasing the lifespan of equipment;
the optimization of operational expenditure (OPEX) in the area of water and energy consumption and the use of consumables.
To avoid any risk of breakdown or system failure, strict monitoring is required.
The first level of monitoring involves daily rounds by a trained operator.
The purpose of these rounds is to:
take readings of relevant parameters that are not automatically supplied;
replace any consumables if necessary;
analyze parameter drifts;
analyze online monitoring values;
launch curative maintenance operations if necessary.
Depending on the number of online sensors and analyzers, as well as the degree of installation automation, the daily operational rounds may be more or less sustained. However, it is not possible to replace them entirely because a presence on the ground is essential. There are many parameters and analyses that cannot be fully viewed from a supervisor's station.
Inspection round documents appropriate for each installation must be put in place. These documents will specify the points to be checked with respect to each item of equipment concerned, indicating, where appropriate, the guide values to be complied with in order to facilitate analysis of the documents.
In terms of the operation and maintenance of an installation, particular attention must be paid to the strat-p phase.It is recommended that a complete audit be performed in this context. This makes it possible to identify points to be monitored and failure risks. It also enables detection of any HSE risks related to this activity. The objective of this is to be able to implement any necessary corrective actions as quickly as possible.
Preventive maintenance is performed as a continuum of daily operation.
The maintenance policy is defined in advance. It requires the performance of a criticality study. This identifies the critical elements of an installation and risk situations.
A preventive maintenance plan is defined on the basis of this study. This is intended to anticipate failures and control breakdown risks. This program must be carried out as part of a continuous improvement approach with respect to equipment availability and security and is aimed at optimizing the operation of installations.
In order to centralize all events and analyze and anticipate them as effectively as possible, it is increasingly common to make use of CAMM (Computer Assisted Maintenance Management) software.
The CAMM system interfaces with various functions. The diagram below outlines the main ones.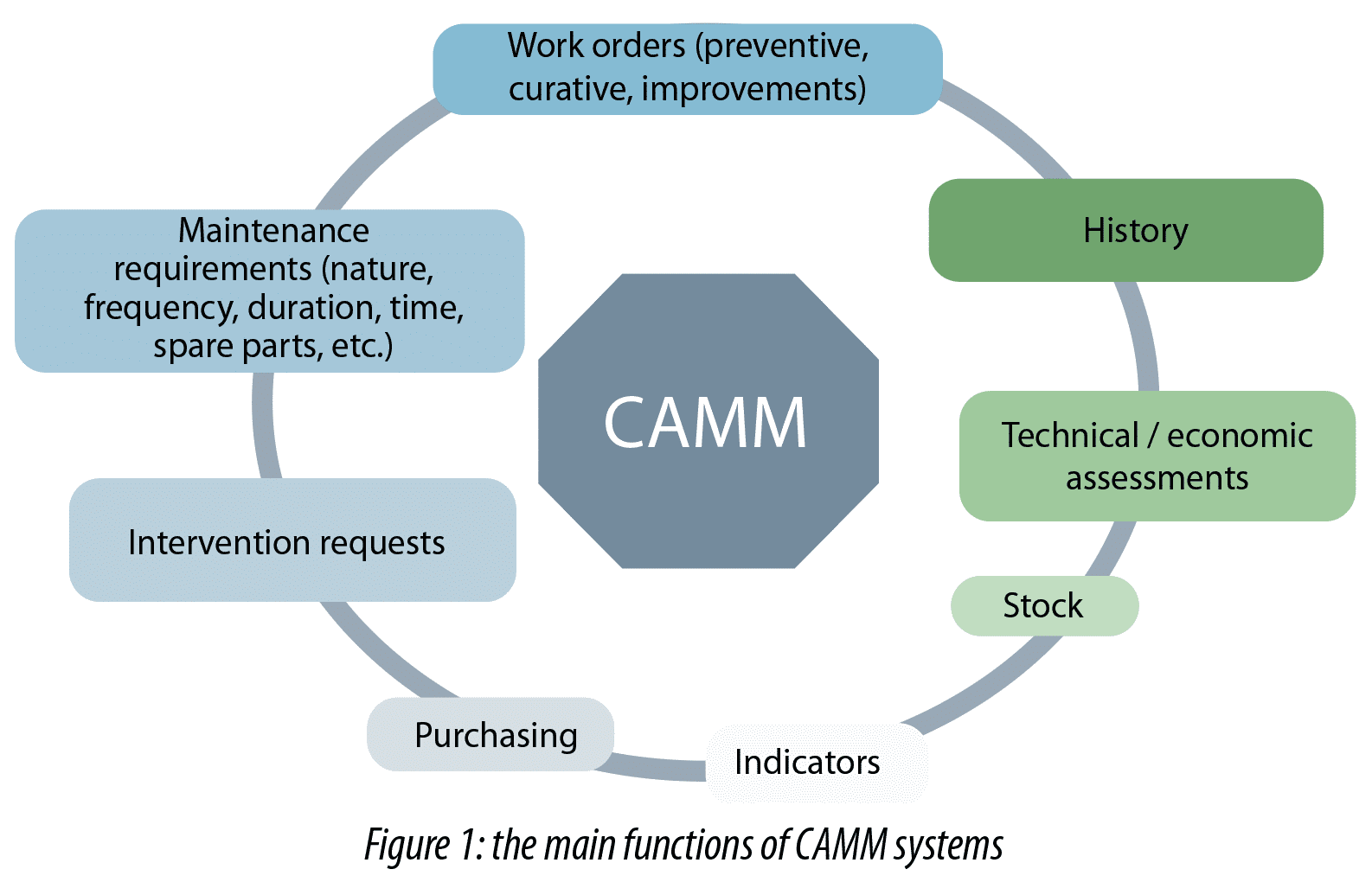 Preventive maintenance is carried out in accordance witha schedule, plans and maintenance ranges. In order to be fully effective, it must:
identify the technical characteristics of all equipment;
define maintenance operations, their nature, their frequency and their duration;
use scheduling and control tools;
compile and manage stocks of spare and critical parts;
statistically assess the reliability and maintenance cost of each item of equipment;
publish indicators to assess its effectiveness.
Metrological monitoringaccompanied this approach. The calibration plan is defined on the basis of the criticality of the sensor, the risk of drift and its impact on water quality (e.g. the sensor operating in a regulation loop). Some monitoring sensors are also considered to be critical.
The flowchart below sums up the steps required for good installation management.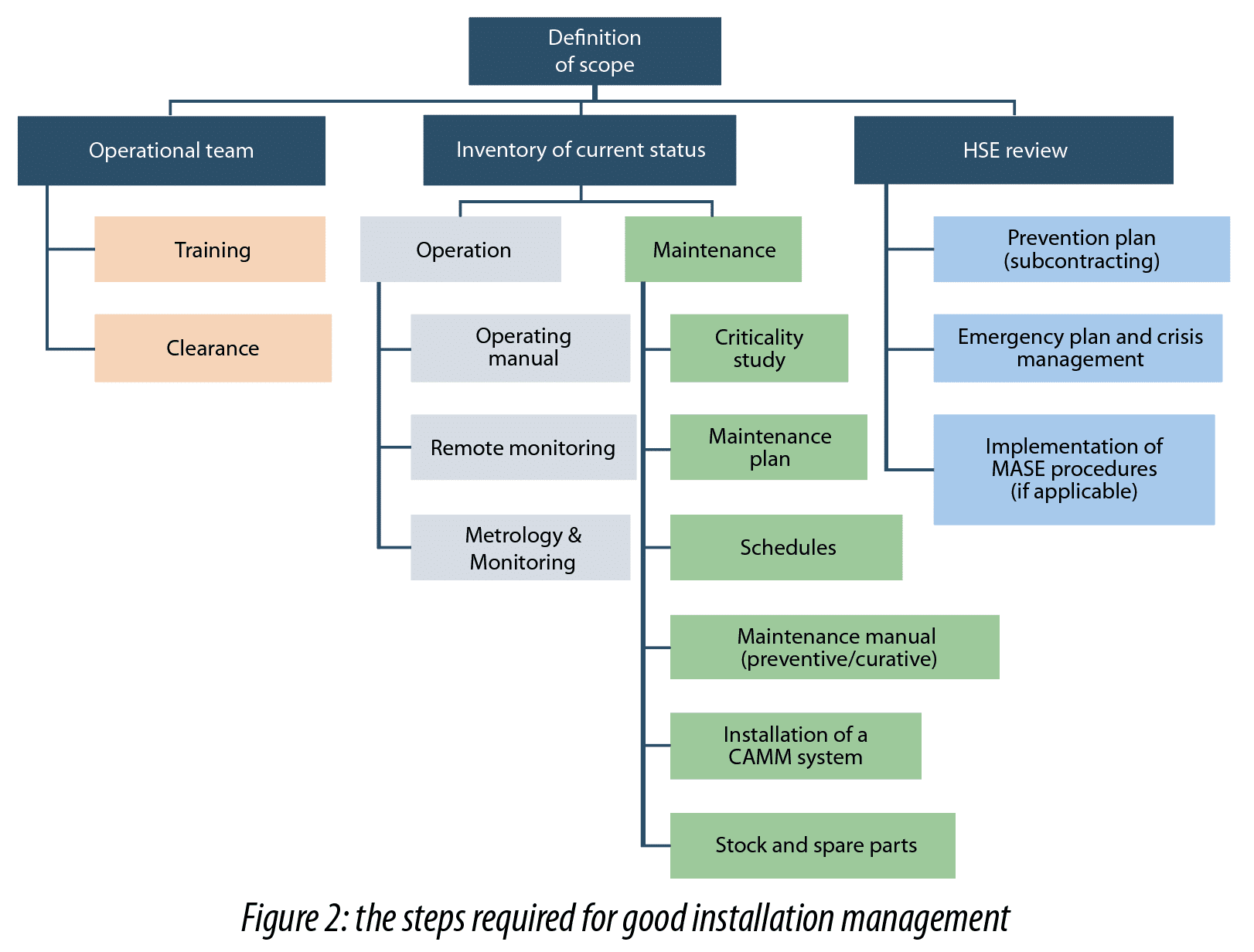 This approach must be combined witha rigorous documentation systemensuring traceability in accordance with the requirements of Good Manufacturing Practices. It contributes to the control of technical resources and operation and maintenance activity management methods and resources.
This documentation system primarily includes:
procedures for the detection and correction of technical or organizational anomalies;
the methodology for the management of subcontracting, follow-up and control of service provision;
document organization and management;
maintenance, control and testing methods and procedures;
the personnel training plan, follow-up of qualifications, the clearance management system;
the methods in place to check correct implementation of the QAP (Quality Assurance Plan) and its updating.
It is also a very good tool for the transmission of key information when operations are outsourced. The external service-provider must comply with the requirements of Good Manufacturing Practices (GMP) as well as the specific requirements of the customer site.
The Quality Assurance Plan
This guide document encompasses the entire documentation system and provides a global overview of the organization implemented. In particular, it specifies the general methods for application of GMP, ISO 9001 regulations, etc. and others if applicable.
If operating and/or maintenance activities are partially or completely outsourced to an external service-provider, an SOP (Standard Operating Procedure) must be put in place. This describes the subcontracting methods and conditions and specifies the scope and responsibilities of each party. It also schedules the parameters for measurement of KPIs (Key Performance Indicators) and the associated scoring system.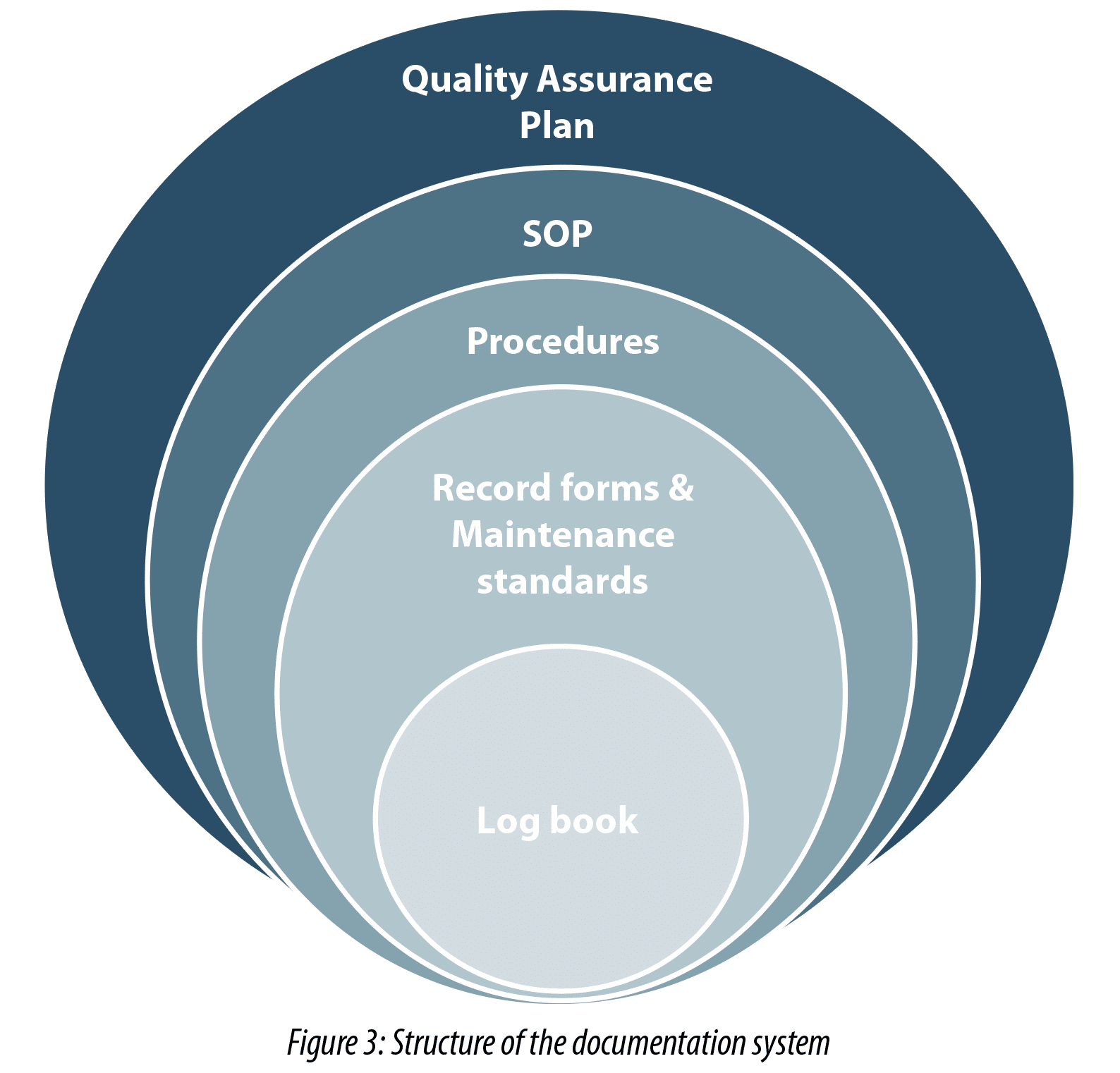 Maintenance and operating procedures detail expectations in terms of maintenance and operation.
maintenance ranges and record forms constitute a set of documents for the entry of raw data collected during operating rounds and maintenance operations.
And finally the Log Book provides a trace of all events having occurred with the installations.
When the installation is equipped with sensors enabling online monitoring, it is necessary to use the events log (alarms, defects, threshold overruns, etc.) in correlation with the data recorded. Operating round records are a manual alternative when the installation is not equipped with online sensors. Data analysis makes it possible to highlight trends, set values or targets and define alert and action limits.
Operation and maintenance follow-up
It is important to perform regular reviews in order to obtain the necessary feedback to ensure continuous improvement.
A weekly review makes it possible to track key events having occurred over the week, as well as the actions implemented.
A monthly review makes it possible to monitor parameters related to consumption, failure and breakdown frequency rates,

alarms and incidents and call-outs. This makes it possible to review the progress of the maintenance schedule and perform corrective actions.

The

annual review

makes it possible to "step back" and obtain an overall view. The KPIs are reviewed. The breakdown of costs and consumptions is analyzed. Avenues for improvement of operation and optimization of operating costs are validated. This also triggers the launch of the investments that are required.
From preventive maintenance to operational excellence
Nowadays, preventive maintenance is the most common approach. Its roll-out has led to improved control of installations. It is ideal for current designs. However, regulatory and economic constraints are increasingly driving manufacturers to improve their performance while reducing their costs.
Technological advances, particularly in the area of online analysis, digital technology and data processing (big data) are enabling an evolution towards less systematic maintenance today.
The implementation of smart monitoring incorporating the necessary professional expertise, thanks to algorithms, is making it possible to "predict" breakdowns and detect the probability of defects.
Thanks to this "predictive" maintenance strategy, it is possible to do without a systematic maintenance schedule and adapt interventions to the real wear levels of the installation. Maintenance interventions are then optimized and planned following a threshold overrun, getting closer to the"just in time" principle.".
Consequently, predictive maintenance makes it possible to improve installation availability and optimize interventions by applying a made-to-measure strategy.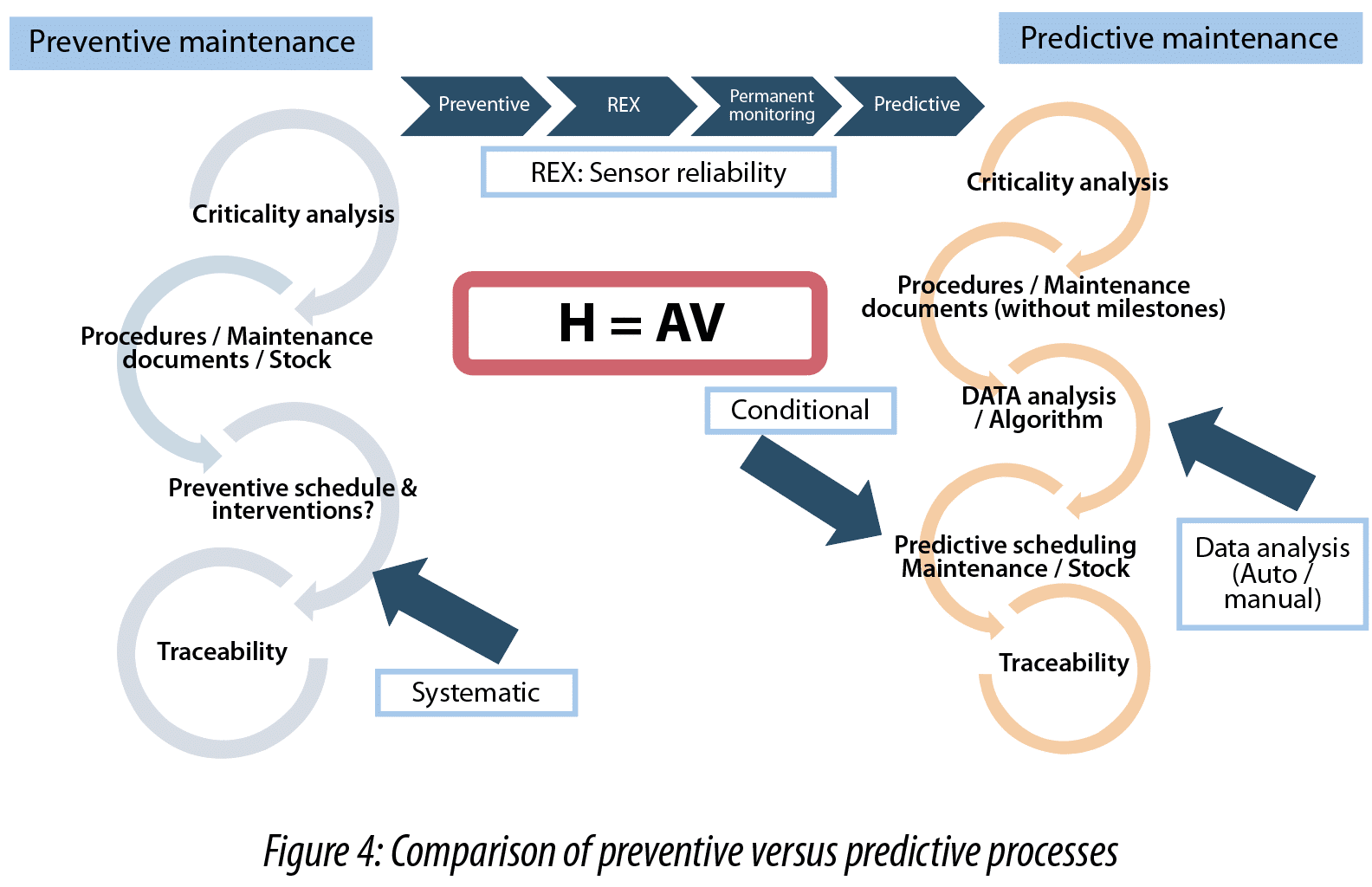 The predictive approach reduces the "man hours" spent in front of machines because installations are equipped with more sensors.
Human intervention then brings more Added Value (H = AV).
Consequently, maintenance can begin its transformation from cost center to excellence center.

Samah RINGA – SUEZ
Holder of a DEA in chemistry and after 7 years in the pharmaceutical industry as operational quality assurance manager in Morocco, she specialized in the design of pharmaceutical water production facilities. She held the position of pharma and biotech market manager for more than 8 years within BWT Permo. Today, it is responsible for this same market and refer to pharmaceutical and cosmetic process water at Suez Eau Industrielle.
samah.ringa@suez.com