Small, flexible filling and packaging systems - using robots could mean great benefits
Biotechnologically manufactured pharmaceutical products are gaining more and more importance – a development that is setting completely new challenges not only for the pharmaceutical industry, but also for the suppliers of filling and packaging equipment.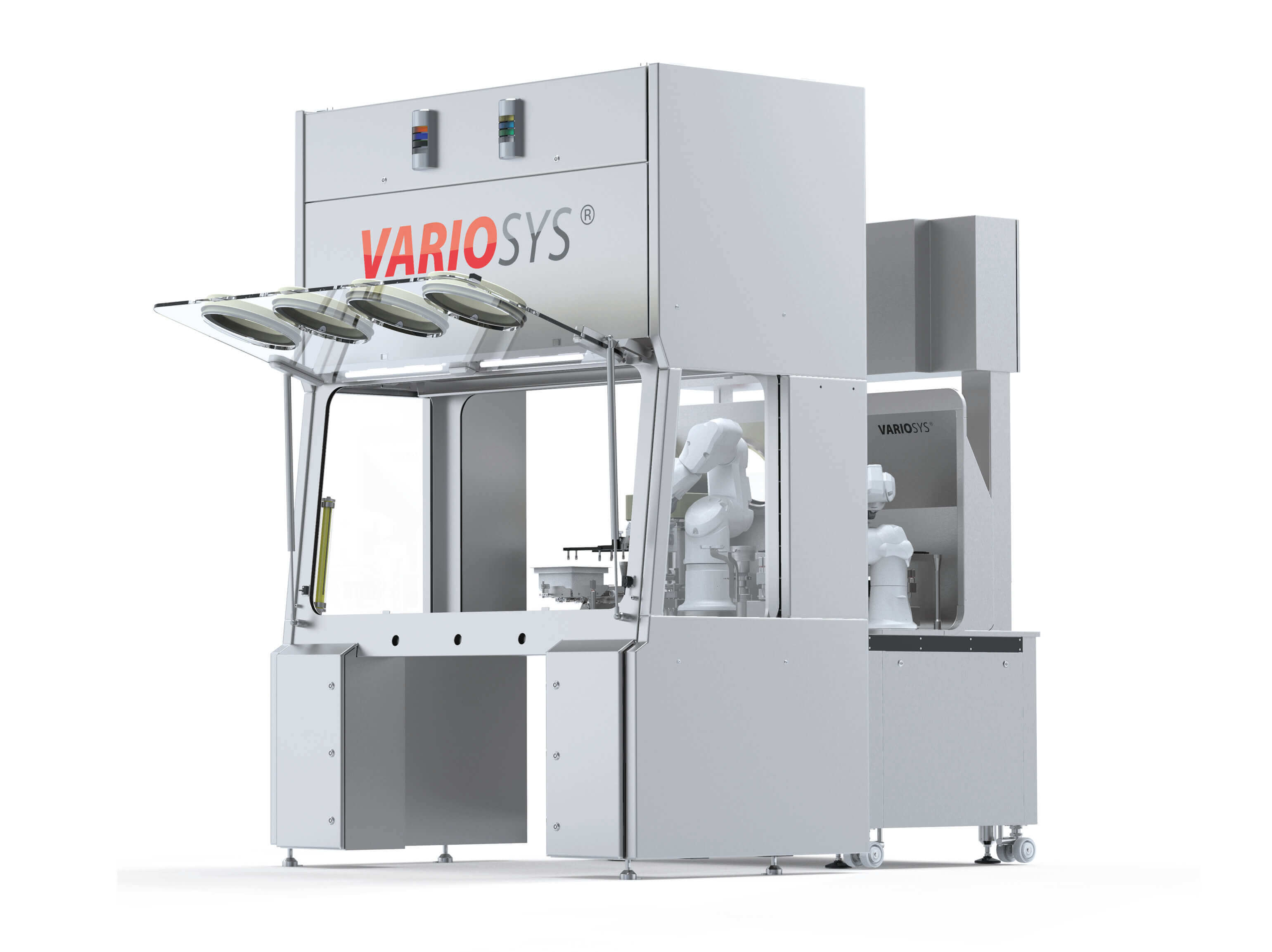 For many years, the focus was on the quick and cost-efficient production of great quantities of frequently required drugs, whereas today the efficient processing of small batches has moved to the foreground. Besides the fully automatic high-speed production lines which are of course still sought after on the pharmaceutical market, the pharmaceutical companies are increasingly on the lookout for small, flexible filling and packaging systems.
Using robots could mean great benefits in this environment – but the robots must be designed to meet very special technical requirements, too.
Special modular system, consisting of isolator and machine component
Normally, the isolator and the filling machine are firmly attached to each other – a good solution for medium and big batches. Standardized isolators are meanwhile available on the market to reduce costs and make sure that the acquisition of isolator technology pays off for small batch processing.
But as far as flexibility is concerned, technology has now moved one step further. Nowadays, it is even possible to use a standardized isolator for different packaging material and processes. With this system, the special production modules can be very easily moved out of the isolator like a workbench and replaced by a different one (fig. 1). A special inflatable seal ensures the safe and gastight connection between the isolator and the production module. An automatic tub unpacking machine or a special fast decontamination airlock allows for the reliable and effective transfer of material into and out of the isolator. Its fully automatic decontamination not involving the isolator is carried out with hydrogen peroxide (H2O2) and takes only about 15 minutes on average.
In developing the new system, the decision was deliberately made in favor of machine modules suitable for specific packaging material. This focus brings about enhanced process reliability, reduced validation effort as well as high robustness of the processing method. High flexibility and quick batch changes are reached due to the easy and quick change of modules, on the one hand, and by short cycle times for the sterilization of the isolator, on the other hand.
The simplest module is a specific workbench that can be equipped individually with different laboratory appliances or semi-automatic machines depending on the requirements. Semi-automatic filling and packaging machines are already available in this field. They can be operated using touch screens and are nonetheless suitable for the use in an isolator because they are resistant to decontamination with hydrogen peroxide. Furthermore, there is a number of other modules, e.g. a fully automatic filling and closing machine for vials with a maximum capacity of 3,600 containers per hour, a module for processing ampoules or a fully automatic filling and closing machine for ready-to-fill disposable syringes, vials or cartridges in nests with a maximum capacity of 4,300 containers per hour.
The degree of automation is even further increased thanks to the development of a module for fully automatic opening tubs and denesting of Ready-to-Use (RTU) vials – working steps so far carried out by the operator. This module equipped with special clean room robots offers the opportunity – in combination with the bulk filling and closing module – to fully automatically open, denest, fill, stopper, crimp and load into trays RTU vials in nests (tubs) – on a length of 4 meters, i.e. within two isolator chambers.
This constellation of modules has the advantage that vials in nests can be processed at full machine speed, i.e. up to 60 tubs per hour, and with 100% IPC (in-process control). The module has predominantly been designed for processing RTU vials. Using it in combination with a nest filling module is also possible by deactivating the denesting function.
In order to implement the concept, the Bausch+Ströbel design team were looking for a robotics solution that could become part of a complex and modular design. The aim was for the finished machine module to be capable of opening tubs and denesting the ready-to-use vials in a fully automated and smooth process.
Two main conditions had to be satisfied. Firstly, the robots had to have a very small footprint. Secondly, all parts of the equipment must be able to withstand frequent sterilization with vaporized hydrogen peroxide (VHP) on many lines. This is also a requirement for the robots themselves because they are part of the highly sensitive, aseptic and toxic filling and sealing processes.
For this reason, the robot arms come with a special surface treatment that was designed to withstand the extreme stresses and strains of operating in an aseptic processing environment. The robot's fully enclosed design complies with IP65 protection classification and the electrical connections are concealed under the robot pedestal. Another important point was that the robots had to have an extensive reach of their arms despite their small footprint.
The robots were designed to combine maximum arm reach with minimum footprint, and with all electrical connections and supply lines enclosed inside the arm. In addition, the engineers positioned the robot arms in the module in such a way that they are never above but always below the containers they are handling, which results in an optimal laminar air flow.
The robot grippers posed a special challenge. Pneumatic grippers are not suitable for use in a cleanroom, and in this case, they were dismissed already because of the space the cables and exhaust air lines would have occupied. A mechatronic gripper design appeared to be the best approach. The grippers themselves also had to be suitable for cleanroom processes because they are directly in contact with the vials and nests. Standard grippers may shed and distribute particles. Any abrasion occurring when the grippers are in contact with the packaging materials could also generate undesired particles. For this reason, the grippers were fitted with easily removable and sealed enclosures or coatings with closed surfaces to prevent particles being released into the process area.
The modules are meeting high demands on the smallest space. Although each production module is only 2 meters long and 1.5 meters wide, aseptic and highly potent filling and closing processes take place on them using state-of-the-art drive and control technology and reach the same high level of quality as on the large production lines, using the same technologies. This presents the advantage that process values can be transferred to conventional (high-speed) filling lines without any problems.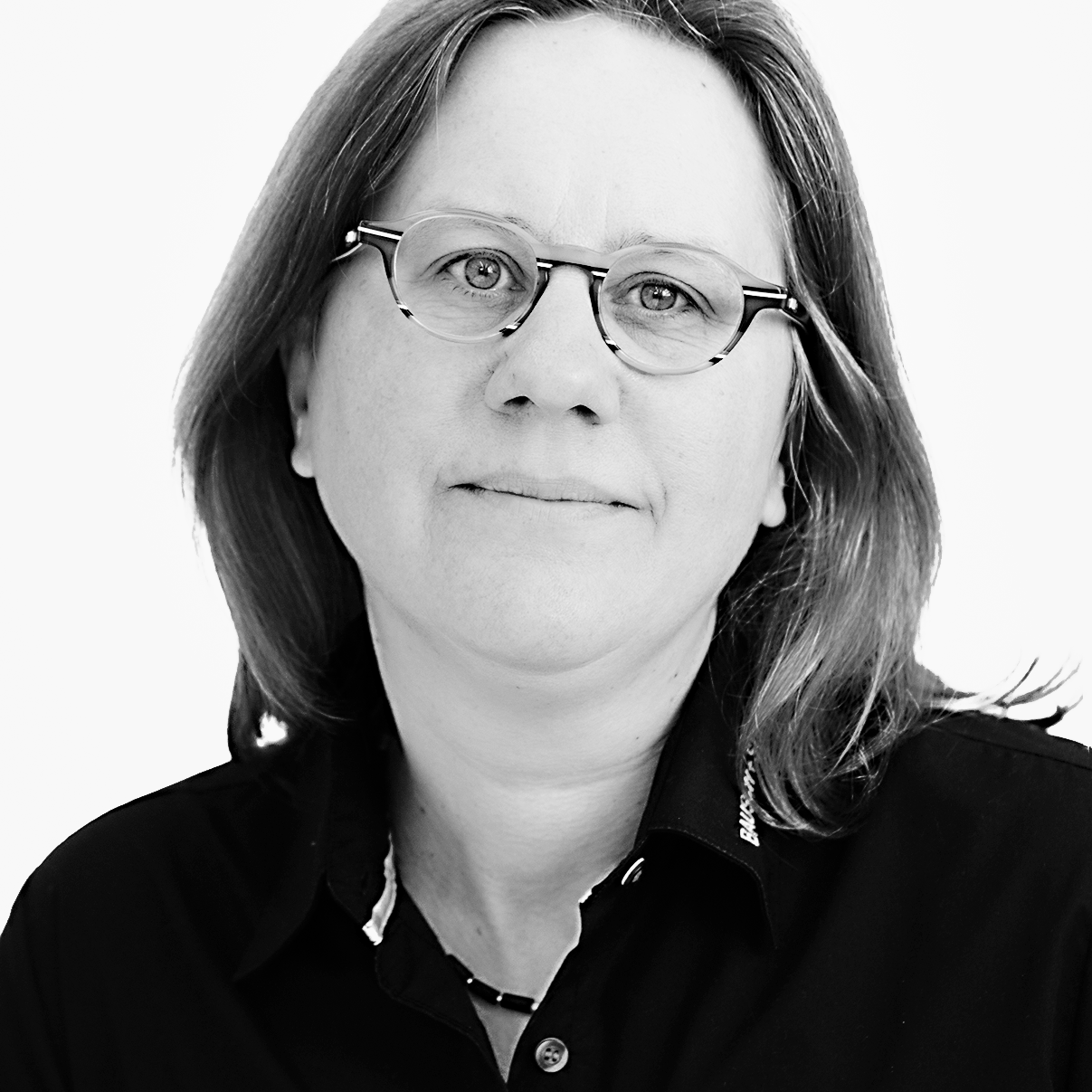 Tanja BULLINGER
Tanja has been the Director Corporate Communications of Bausch+Ströbel Maschinenfabrik. Ilshofen since 2009. The editor is a member of the board of shareholders of the family-managed company which has specialized in filling and packaging technology for the pharmaceutical industry
tanja.bullinger@bausch-stroebel.de